Titleist T100-S Irons
---
Titleist T100-S Irons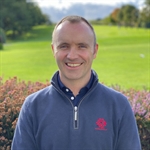 Jonnie Cliff
Created with a slightly stronger loft than the standard T100 irons, the T100-S irons deliver pinpoint accuracy when you need it the most.
High-density tungsten features in the heel and toe of the mid-to-long irons, which has been co-forged to produce total stability and a solid feel. Added to this is the 2° stronger lofts than the T100, designed to give the better play some added distance through the bag.
Key features and benefits include:

Slightly more camber on the sole has improved turf interaction for a smooth flow
High density tungsten in the mid to long irons produce a solid, stable feel
2° stronger loft than standard T100 for longer distance
Available from 3 - PW (48°)
Suited to the slightly lower handicap player looking for distance, these irons certainly pack a punch and are well worth trying out before your next iron purchase.
Contact
---